Mexico is the ideal destination to spend a beach vacation, with good music and cocktails, in the company of family and friends. Because of its beautiful beaches, the Beach Club concept is very common, offering various types of fun, relaxation and the ideal space to meet people or to hold celebrations such as bachelor parties or weddings.
In order for you to know the best M's Beach Clubéxico, we have made a good selection so that you can choose the one that best suits your tastes and preferences.
It is one of the Beach Club most recognized among the entertainment world. International celebrities, creatives, plastic artists and musicians often visit the place. This is due to the emblematic environment that is surrounded by jungle, white sand dunes and coconut palms. In addition, it has a modern and original pizza garden that is a great beach area, electronics and tribal rhythms.
In terms of gastronomy, it has signature restaurants and a bar with the most exquisite cocktails. One of the most particular aspects of the Beach Club Mia is the natural element known as the wooden tunnel, in addition to the innovative nests that are the favorite place to take pictures.
Cocos Beach Club Sayulita
One of the most impressive points of this M's Beach Clubéxico is that you can find in this place the best pleasures. These are eating their exquisite tuna or enjoying a generous shrimp with coconut, along with an extraordinary aguachile. On the other hand, it is a very facil of find and it is recognized in the sector as one of the best places where exquisite Mexican food is served, taking into account that the price of these dishes is very accessible.
You can enjoy this with a wide variety of cocktails that you have to choose from or if you prefer to go for a traditional beer or margarita, you will enjoy all this from a table or hammock. Count with one highly trained staff to offer its clients a service of the highest level.
This distinguished Beach Club is located facing the Sea of ​​Corteés, is part of the luxurious facilities of the Vidanta hotel. With the difference that it has daybed cabins and a huge pool that turns the place into an impressive setting, enlivened by international artists and DJ. Many of its clients recognize the place as a place full of comforts, sophistication and luxury for its VIP areas that have two-story villas with private pools, cabins and sun loungers.
the place too offers spaces dedicated exclusively to relaxation or for private celebrations in a party atmosphere.
Chicabal Sunset Club Cancun
It is the place where you will enjoy the best parties held at sunset on the shore of the Mexican Caribbean Sea, specifically in front of the peculiar and particular Laguna Nichupté. The place is recognized for the incredible parties that make the space a club where drinks, good music are offered and, in general, different personalities attend due to the exclusivity of the place.
It offers its clients an environment with a totally new concept, whose purpose is to make live a incredible experience to your visitors. On the other hand, you can enjoy gastronomy of the highest level, luxurious cabins, yacht service and incredible views.
East Mexico Beach Club, is located in Playa del Carmen, and is a club with a completely original design and natural light. A luxurious haven for people who truly want to unplug. It is considered a private oasis in which it radiates desire, energy and liberation, which will make you live a unique experience where you will learn to listen, feel, taste, see and even play with many elements.
It has a totally different concept than the other clubs, but it is the ideal place for people looking for a place to unwind.
It is a place that has a excellent location, is characterized for being a privileged zone site of Acapulco. This guarantees that you will enjoy incredible seaside views, either for its incredible sunrises or sunsets where you will observe the entire port.
From opening in 2014This Mexico Beach Club only offers its services in set dates and holidays. Among the services it offers, there are outdoor beds located around the two gigantic pools, where you will be served different bottle services or original cocktails.
All this, enlivened by the music of international or local quality DJs. As for the gastronomy of the place, it stands out for offering a wide variety of food, snacks and drinks. Being the Beach Club mHave you visited by tourists? of quality of celebrities, influencers, artists and especially university students who enjoy the private club.
Other Beach Clubs in Mexico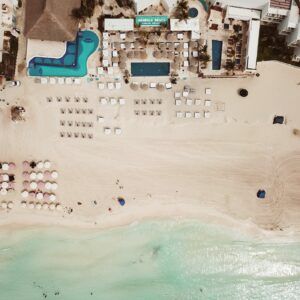 Mandala Beach Cancun is a great beach club located in
Read More >>